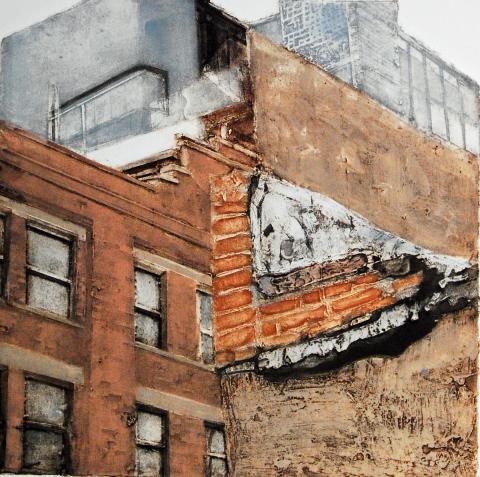 The Collagraph Technique
by Grace Bentley-Scheck
Collagraphs are limited edition prints made from plates that are collages of paper, fabric or other materials.  When the surface of the plate is sealed with acrylic medium, it can be inked in the same way as a metal etching plate.  These plates, having more levels than metal plates, may be coated with additional ink colors as can wood or linoleum blocks.  After many colors are applied, the plate is covered with dampened all-rag paper and special blankets that help force the paper into all the crevices and textures of the plate as it passes through the printing press.  The press transfers ink to paper and also creates an embossment that remains after the ink is dried.  The same plate is printed again and again until the edition is complete.  Because the ink is applied to the plate by hand, unlike commercial printing in which inking is mechanically controlled, each impression has slight variations, which make it a unique image.
The plates from which my works are printed are built up in layers and my subjects are layered by time, weather and human intervention.  In choosing images, I am interested in urban spaces that show signs of transformation through time and social history.  My first perception is the geometry of the three dimensional space, and that geometry becomes the structure upon which the composition is built.
When the collagraph is complete, I adhere silk organza to the plate and paint on in with acrylic medium to produce values.
Born in Troy, New York, Grace Bentley-Scheck now resides in Narragansett, Rhode Island.  She was educated at Alfred University where she received a BFA and MFA.
She has exhibited widely in the United States, including a one-person show at Newport Art Museum, and received many awards.  Her work has also been exhibited in Several European countries and Japan, most recently INTERNATIONAL PRINT TRIENNIAL CRACOW 2000-BRIDGE TO THE FUTURE which was shown in Cracow, Poland and Nurnberg, Germany, TRIENNIAL OF 100 CITIES in Poland and THE CONTINENTS, Walbrzych, Poland.  Her prints have been collected by the Newport Art Museum (RI), the Knoxville Museum of Art (KY) and the Portland Art Museum (OR) as well as many other public and private collections.